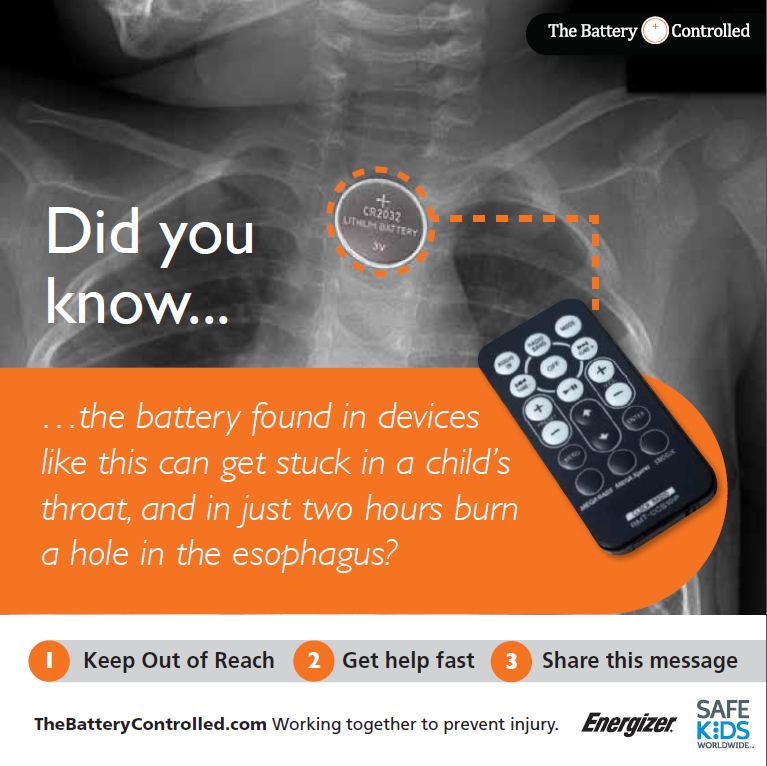 As we demand smaller and smaller electronics, the batteries in them become higher powered and more dangerous to children if ingested. It is important for parents and caregivers to know about this danger and be alert to products found in the home that contain these batteries. These batteries are often the shape of a "button" or coin. However, if a button battery is swallowed, unlike a coin or button that can be allowed to pass though the intestinal system, a battery needs to be removed in 2-3 hours or serious and life threatening consequences can present.
If a product is considered a "child product" and contains these batteries, they are required to have a cover with a screw over the top of the battery compartment. These are often found in children's sound story books or toys. Adult products in the home do not have the same requirement for a secured cover on the battery however, many of these "adult products" are found within children's reach in the home. Examples of products that are included: bathroom scales, calculators, car starters, garage door openers, singing greeting cards, digital thermometers, remote controls and other small electronics.
To learn more about these dangers and ways to keep your home safe from button battery hazards, check out these resources:
Safe Kids Grand Forks Button Battery PSA
To make the people of our community and region more aware of this topic, Safe Kids Grand Forks, in partnership with WDAZ, produced a button battery public service announcement. Click here to view.